Blast Off! NC Small Business "Love" Contest Launches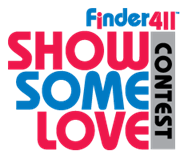 It's February, and what better time to show some love. For small businesses, that is!
Today marks the beginning of our "Show Some Love" contest at Finder411. There's no doubt that the small businesses in our North Carolina communities could use support and help in building awareness for all they do to make our communities worth living in or visiting.
But where will the love shine the most?
Asheville?
Charlotte?
Raleigh & Durham?
Wilmington?
Greensboro & Winston-Salem?
We challenge each and every one of you to show some love by representing your small business community.
People like:
Your favorite interior decorator, who comes to start a new project in your home and practically reads your mind when she makes suggestions probably doesn't have a huge budget for advertising those killer instincts.
That tiny café down the road that always offers free samples of its latest homemade dessert creations likely relies on word-of-mouth promotion to keep new customers coming.
Your favorite family farm whose lush berry patches offer up fun memories each year you visit with your kids.
This is where you, someone devoted to shopping locally, can help! Give a shout out by nominating your favorite small business in our "Show Some Love" contest. If you have more than one favorite (and you probably do!) you can nominate one each day of the contest, which runs through March 12th. Repeat nominations are accepted as well.
One grand prize winner will receive an iPad mini. Our seven business finalists, 1 from each category below, will be awarded a 1-year premium membership at Finder411. One grand prize business winner will win a Lifetime* Finder411 membership!
Visit Finder411's Facebook page to nominate a business in one of these categories:
1. Home Related – Real estate, custom blinds, plumbers, landscapers, interior designers and similar.
2. Agribusinesses – Wineries, farms, orchards, B&Bs.
3. Restaurants – Anything but franchises or chains.
4. Retail Stores – Anything independent. Multiple locations are allowed, but no big box chains or franchises.
5. Personal Care – Hair, skin or body care. (No tanning salons)
6. Professional Services – Law, accounting, photography, bands, DJs, event planning, pet sitting, catering and similar.
7. Health-related – Physical fitness, dentists, optometrists, chiropractors and similar.
Valid entries consist of nominating a qualifying North Carolina business, providing a valid email address, and be a United States resident who is 18 or older.
To "Spread the Love" further please share this contest with your circle. You can also read a recent blog to get the skinny on what our Finder411 vision is.
Small is the new big,
Your Finder411 Team
*For contest purposes, Lifetime is defined as 25 years. See complete contest rules for details.