NC Contest Showing Small Business Love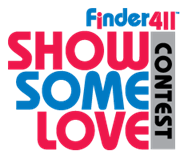 At Finder411, we're certainly all about small businesses. But that doesn't mean we're not going to start things big! Our "Show Some Love" contest is coming February 6th!
So what's all this love you're supposed to show? Love for your favorite small business.
That restaurant where the waitress has your usual order in and cooking before you even make it to the table.
The plumber that's out of bed and at your door at 1 a.m. to stop the fountain that mysteriously sprung from your basement ceiling.
That one little retail store where everything in it feels like it's tailor-made to fit your quirky tastes.
"Show Some Love" gives you the chance to nominate your favorite North Carolina small business by visiting our Facebook page to enter. Have more than one? We thought so. While you're only allowed one entry per day, you can enter on multiple days to spread as much love as possible!
Since this is a contest, by now you're probably wondering what the reward will be. One lucky person will win a new iPad mini (because we're all for small, of course!). Small businesses aren't left out of the benefits either. One small business in North Carolina will become a Finder411 lifetime premium business partner, which includes a professional photo shoot and featured profile on our site.
Qualifying businesses include any of the following:
Home Related – Real estate, custom blinds, plumbers, landscapers, interior designers and similar.
Agribusinesses – Wineries, farms, orchards, B&Bs.
Eateries – Restaurants, food trucks – or anything in between! NO franchises or chains.
Retail Stores – Anything independent.
Personal Care – Hair, skin or body care. (No tanning salons)
Professional Services – Law, accounting, photography, bands, DJs, event planning, pet sitting, catering and similar.
Health-related – Physical fitness, dentists, optometrists, chiropractors and similar.
To enter the contest, you must nominate a North Carolina business, provide a valid email address, and be a United States resident who is 18 or older.
Nominations will be accepted from February 5 through March 12. Small businesses with the MOST nominations within each of the seven nomination categories will automatically receive a 1 year Finder411 Premium subscription. In the event of a tie, an independent judging panel will select based on additional criteria to be provided at contest launch.
On March 19th public voting will begin. Voting closes at 5 p.m April 2nd. These votes will determine Finder411's first Favorite North Carolina Small Business.
Visit our Facebook page and "like" us to stay up-to-date with all the contest happenings or head straight over to Finder411 to submit your small business photo – we might just include it on our Splash page!